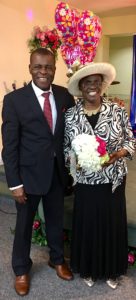 July 2017: The Month of Victory
Beloved,
Welcome to the month of July 2017, the first month of the second half of the year of Spectacular Splendor.
Our God has been so good to us thus far, saving, healing, delivering and lifting up our heads by His mercy and grace.
This month of July 2017 is our month of Victory and God by His finished work over 2000 years ago by Christ on the cross of Calvary has given us the victory already. We are therefore in this month, thanking God for giving us the victory (1Cor 15:57).
The Lord will fill our mouths this month with songs of victory and deliverance (Ps 32:7) and the Egyptians we saw in the past we'll never see them again ever. (Ex 14:13).
The Lord our God will fight for us and we shall hold our peace and celebrate the goodness of the Lord in the land of the living (Ps 27:13)
On our own part, may we continually wait patiently for our God, pressing on in the place of prayer and walking diligently by faith, for our time of victory has come.
It is time to take the land for Jesus through vibrant soul winning, for the Lord has given us the victory already.
Therefore arise, shine for your light has come and the glory of the Lord is risen upon thee.
I look forward to hearing your testimony of victory, that the Lord may be glorified in our lives as we come to church bringing our converts to the house of the Lord.
Halleluyah!
Shalom,
Pastors Chris & Ude Ogali
Senior Pastors, RCCG Victory Parish Miami
Provincial Pastor, RCCGNA Region 4, Province 2
Please
for the word for this month as well as the 2017 prophecies and other messages.
We encourage you to check on it regularly as we add various features for your benefit. Feel free to share the link with your family and friends.
http://spectacularsplendor2017.blogspot.com/